About Langguth
LANGGUTH - an event in superlatives.

In September of 2012 LANGGUTH celebrated a great jubilee making its own Oktoberfest in its premises with traditional Bavarian food and music. Employees and retirees as well as customers and business partners raised the beer glasses in appreciation of tradition and inventory spirit for 80 years. All participants agreed, that it was a great fun - the traditional music of Alpine style, an amazing parachute jump and a great opportunity to welcome customers and former employees as well.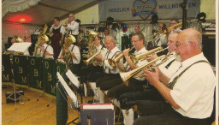 Langguth GmbH - is a brand with 80 years story. Time is the best measure to the quality; the quality of LANGGUTH has been worked out during many years. Everything started in 1932, when mechanical engineer Albin Langguth founded a company for repairs of equipment and the construction of new machines. Apparently, the first machines were semi-automatic. Unbelievable, but some of them have worked for 50 years and more! In 1970 Langguth manufactured the first automatic labelling machine. The company was managed already by Ferdinand Langguth by that time... More about company's history on our web-site.
Langguth GmbH welcomes all visitors to Rosupack - 2013. Our stand number is А311. Langguth will exhibit its most popular labelling machine - wetLAN 110 - a fully automatic labelling system for application of the paper labels onto the cylindrical containers. High accuracy, exceptional reliability and simplicity - are the basic parameters which made the model wetLAN 110 most effective for the small production sites. During the trade show we will demonstrate the machine wetLAN 110 in operation and the process of its changeover.

The production program of Langguth includes hot glue labelling systems, automatic systems for pails handling, labelling machines for self-adhesive labels, filling lines, group packaging equipment. Semi-automatic labelling machines for wet glue are still present in the production program of Langguth.
Welcome to Langguth GmbH at Rosupack-2013!
A German specialist for labelling machines and pail handling systems LANGGUTH GmbH presents the new platform technology. The whole platform, which is available in 2 – 3 versions, is made of stainless steel and will be the base for wet glue, hotmelt and self-adhesive labellers covering all conceivable variations. With this technology it is possible to install all modules, that have been manufactured as per customer's demand up to now, on one basic form (i.e. platform). Of course we have executed the platform in CLEAN design leading to an easy access to all machine components and therefore to lower cleaning expenditure.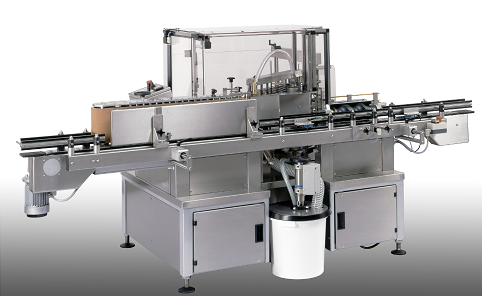 LANGGUTH presents a wet glue labeller type wetLAN for the equipment of jars and cans with patch and wraparound label. The maximum capacity is 400 labellings per minute.
Furthermore a self-adhesive labeller type selfLAN for round, anuglar and oval pails could be inspected on the booth. As shaped labels are concerned, which have to be applied on the front and back side, the LANGGUTH specialists designed two self-adhesive dispensers with vacuum band located on both sides so that the labels are applied without creasing. The labeller is working with a speed of 20-25 containers/minute and is executed for 10 container sizes.
The company:
LANGGUTH develops and manufactures labelling machines in Germany for 80 years. On national and international markets LANGGUTH offers customers from many branches tailor-made solutions which are state-of-the-art. Bottles and containers of glass, plastic or metal, containers with unstable walls, cartons and unusual sizes are labelled cleanly, precisely and fast by LANGGUTH machines. With hotmelt technology a capacity of up to 60.000 labels per hour is possible. LANGGUTH provides wet glue, hotmelt and self-adhesive labelling technology as well as pail handling systems.